The Family Medicine Physician Scientist Pathway (PSP) Program
An ABFM-approved Pilot Program of Integrated Mentored Research Training During Residency
What is the PSP? The Family Medicine Physician Scientist Pathway (PSP) pilot program is designed to meet the needs of those who wish to pursue a career of independently-funded research without having a "gap" in research training during the years of residency.
Interested in being part of the FM-PSP during your residency training? Learn more about the pathway and check out the 7 residency programs that are part of the pilot program below.
Those wishing to read more in depth about the program can review the (approved) proposal to the American Board of Family Medicine - or may wish to review this brief commentary about the PSP. 
---
Rationale: Physician-scientists integrate unique clinical insights into research and can help bridge clinical care and scientific discoveries. Family medicine lags behind other primary care specialties in contributing to empirical research. Other primary care specialties employ a residency research pathway to recruit medical students with concurrent interest in a research career, but the specialty of family medicine has lacked this essential tool.
This program addresses the urgent need to increase: 1) the capacity in the specialty to develop leaders in academe; 2) the number of independently funded family physician-scientists to advance high-priority research; and 3) the capacity to expand the pool for talented residents. The pilot will help demonstrate sustainability of the program, as well as the feasibility of institutionalizing research as a career path through family medicine residency programs.
Description: The program builds on the foundation and tradition of excellence in clinical training. Thus, residents will meet clinical training requirements with verification by the residency program director of eligibility for ABFM certification. A distinction of the program is the coordinated training and mentoring to develop the skills necessary to become an independently funded physician-scientist. Trainees will develop skills in quantitative and/or qualitative research, and scientific writing with expectations of high-quality peer-reviewed publications and competitive NIH K-awards, R-type, or similar grant applications at the end of the training period. They may have the option to complete a Master's degree in health policy, population health, public health, or related fields, that will be tailored to the needs of individual trainees.
There will be flexibility in how residents enter or exit the program in terms of timing (PGY1 or later), length of the program, and curricular structure, depending on pilot site. All PSP residents should plan for the full length of training to be four to five years.
Residency Requirements & FM-PSP "Tracks":
The patient care continuity requirements are the same for the FM-PSP residents as for other family medicine residents. Trainees must fulfill the minimum of 1,650 continuity patient encounters required for ABFM certification by graduation. The FM-PSP may have an added advantage in providing longer ongoing relationship of patient with the resident primary care physician for the expanded training period.
The program requires prospective planning by trainees and program directors to maximize the experience. Entry implies a commitment to its completion, although, during the pilot, flexibility is provided to both "off-ramp" or "on-ramp." Trainees who change their career path from the FM-PSP will become eligible for the ABFM Certification Examination after completing 3 years of required clinical training as verified by the program director.
Two tracks will be offered in the program with the ability to "on-ramp" and "off-ramp." In Track 1, trainees will begin the pathway in PGY1. This track is intended to balance both clinical and research experiences over the five-year program more evenly. In Track 2, trainees who later decided to pursue a research track will begin integration in PGY2 or PGY3. With clinical training front-loaded in PGY1 and PGY2, trainees in Track 2 will likely fulfill ABFM training requirements sooner than Track 1 trainees, but may have a slight disadvantage on research training during the beginning, and thus may require ramp-up time.
 

Planned average number of hours per 40-hour week, PGY by Track

Track 1

Track 2

PGY1

PGY2

PGY3

PGY4

PGY5

PGY1

PGY2

PGY3

PGY4

PGY5

Clinical training

28

28

12

8

8

40

20

8

8

8

Mentored research

12

12

28

32

32

0

20

32

32

32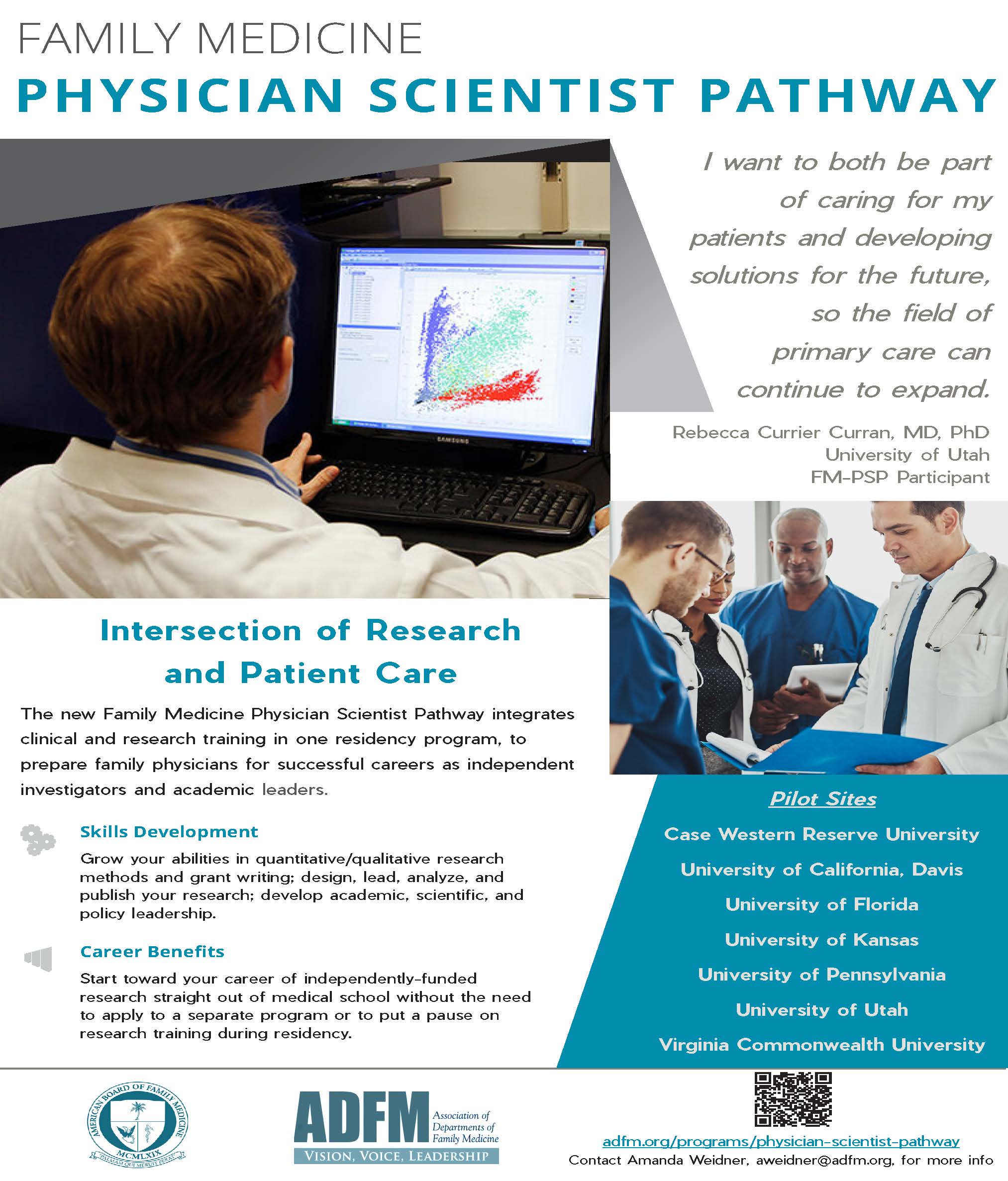 Looking for a brief description?
We have put together a one page overview of the Family Medicine Physician Scientist Pathway for easy sharing.
Frequently Asked Questions
This section is a "work in progress" - below are some FAQs we are developing answers for and others that have been answered; please "pardon our dust"!
---
Who is eligible/what qualifications are you looking for?
Those applying for PGY1 positions and some PGY2s at residency programs who are part of the PSP pilot (see above) are eligible. Students and residents with a strong interest in research and a research career are encouraged to learn more about this opportunity. Those with some research experience or background will be most qualified. The FM-PSP is a great opportunity for:
those who already have a PhD and want to keep up their research portfolio during residency;
those who know they want to pursue a research career and don't want to wait until after residency to expand their research skills; 
those who want to begin to build toward a career of independently-funded research straight out of medical school;

those looking for an early "on-ramp" to research careers for competitive academic faculty positions

.
Is it OK to join as a PGY1, PGY2, etc?
This depends on the pilot site. Some residency programs are accepting only PGY1s into their PSP position, others may bring in a PGY2 who is a good fit for the program.
What will PSP residents "get" for participating?
All PSP participants are guaranteed some research training, dedicated research mentorship, and some flexibility in their (extended) time in residency to allow for effort on research endeavors. Other benefits such as funding and resources are specific to each program participating in the pilot. 
How is the research conducted by PSP participants funded?
Research funding is site- and individual-specific. Some sites have participants with awards from the NIH or other major funding entities.
Who are the mentors? Will mentors be compensated for their efforts?
Mentors are selected by the individual residency programs and the benefits to those individuals are site-specific. Pilot programs do share updates and structures with one another to allow for dissemination of best practices across sites. 
Are there key products, deliverables or other results that trainees can expect as an outcome of participating?
Each residency program in the pilot has their own deliverables though all participants should expect to have high quality scholarly outcomes (publications) as a result of their research projects. Some sites expect participation in graduate coursework and/or completion of a graduate degree (e.g. MPH) depending on an individual's research plan.
How is the pilot being evaluated?
Development of an evaluation plan is underway.
Will the pilot be expanded to include other residency programs?
We hope so! This will depend on the results of the evaluation of the pilot.
Who is overseeing the pilot?
The pilot is overseen by an Advisory Board, consisting of individuals from a number of organizations inside and outside of family medicine with additional guidance from the "leads" at each of the pilot sites:
Advisory Board Members

James Puffer, MD (ABFM), Chair

Hazel Tapp, PhD (NAPCRG)

Jennifer Carroll, MD, MPH (AAFP)

Kola Okuyemi, MD, MPH (ADFM)

Robert Phillips, MD, MSPH (ABFM)

Chyke A. Doubeni, MD, MPH, FRCS (PSP initial idea & proposer)

David A. Chambers, D. Phil (National Cancer Institute)

Pilot site leads

Elizabeth Magnan, MD, PhD (UC Davis)

Margaret Baylson, MD, MPH (University of Pennsylvania)

Kola Okuyemi, MD, MPH (University of Utah)

Goutham Rao, MD (Case Western)

Peter Carek, MD, MS (University of Florida)

Belinda Vail, MD, MS (University of Kansas)

Alex Krist, MD, MPH (Virginia Commonwealth University)