Interested in applying for LEADS?
The Call for Applications for the 2024-2025 LEADS Fellowship is now closed. 
Look out for details for the call for applications for 2025-2026 in early spring 2024. 
Meet the incoming LEADS fellows!
Learn more about the incoming LEADS cohort and their LEADS projects.
ADFM LEADS: Leadership Education for Academic Development and Success
Learn More About The LEADS Fellowship Below! 
Introduction
A decade ago, ADFM recognized the need for a robust and diverse leadership pipeline to meet the growing needs of academic departments of family medicine for both senior leaders and department chairs. Department-level senior leadership positions are an important part of the Chair leadership pipeline, and effective succession planning for chairs. The ADFM LEADS fellowship is a 1-year program designed for mid-to-late career family medicine leaders interested in pathways to leadership in academic or other health systems, including department chair, or who want to further explore if these roles would be a good career fit. Since 2009, 78 fellows have completed or are currently participating in the ADFM fellowship. Almost half of these fellows have assumed interim or permanent chair positions, and others have gone on to assume department-level senior leadership roles in academic family medicine.
Overview
The ADFM LEADS Fellowship Program provides interactive training, tools, and experiential learning for those aspiring to senior leadership positions in academic or other health systems. The program has an emphasis on strategic career planning and features a cohort-responsive curriculum structured around the Leadership Competencies for Family Medicine Department Chairs and Senior Leaders, which we have found fit for other leadership roles as well. 
In the LEADS program, you'll:
Identify areas for professional development from the leadership competencies and complete a project designed to improve skills in some of these areas;

Develop an ongoing connection with advising from an experienced Department Chair or senior leader on your project and career goals;

Participate in ADFM's member offerings, including attendance at the ADFM Annual Conference and access to the ADFM Chair listserve;

Access a number of trainings and resources specifically designed for LEADS participants.
Eligibility
Clear connection to family medicine in an academic medical center or an academic affiliated health system. 

At least 3 years of leadership experience in a position where you have had some responsibility managing personnel and budget and strategic direction
Application Elements 
The application form must be completed including your personal essays, project proposal and current CV/resume 

Application will be available in spring 2024

The nominator form must be completed by your nominator (within or outside your institution - may be your supervisor or not) 

Nominator form will be available in spring 2024

The time/financial commitment form must be filled out by your direct supervisor 

Time/financial commitment form will be available in spring 2024 
Forms are linked for review and preparation, however, please note that they must be submitted online via the form links above. Please feel free to download the Application, Nominator Form, and Commitment Form. (Note: Attachments will be updated when 2025-26 cycle opens)
Program Elements and Schedule
The ADFM LEADS Fellowship is a year-long program (starting and ending in February at the ADFM Annual Conference). The program is structured around the ADFM leadership competencies, highlights strategic career planning, and is designed to be cohort-responsive though some content is included annually.  Some examples of specific topics that may be covered include:
Leadership pathways for self and mentees (i.e. knowledge of the different career options available, see

CAFM leadership materials

)

Diversity and inclusion; anti-racism; explicitly acknowledge minority tax, sponsorship, allyship

Self-promotion

Survival skills vs day-to-day knowledge

Systems thinking

Change agency and management

Teaming and leadership; leadership styles

Writing, communication, and negotiation skills

Advocacy skills (legislative and local/institutional)

Giving and receiving feedback with a formal peer evaluation from other fellows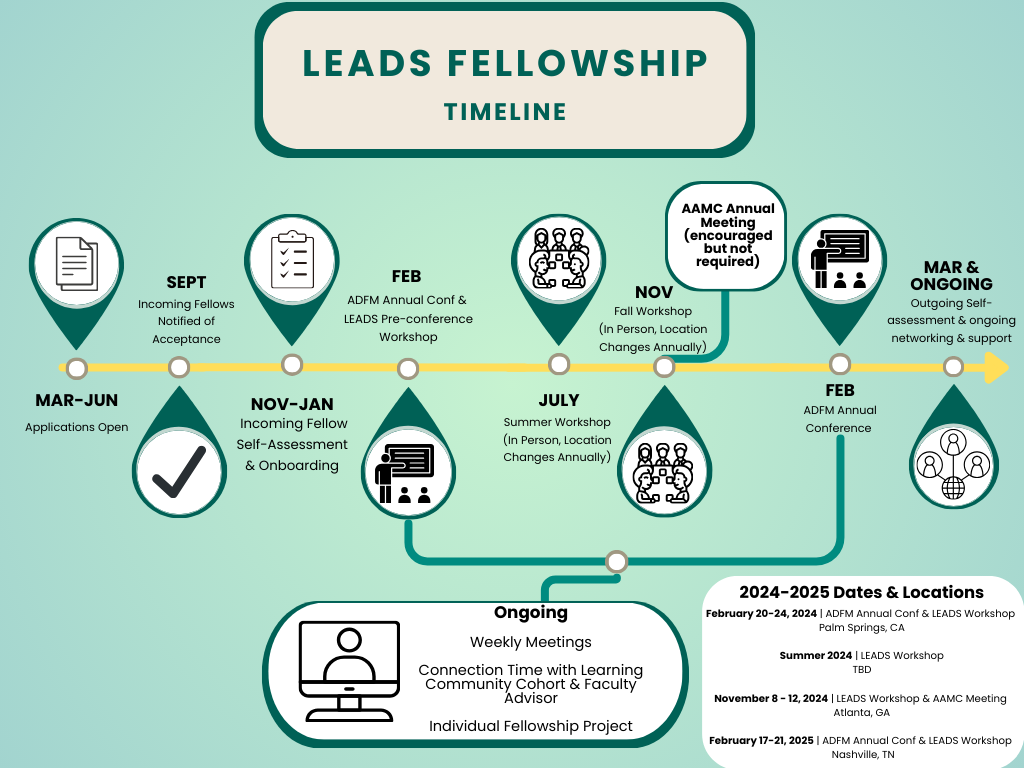 Program Cost and Commitments
The cost of participation in the ADFM LEADS Fellowship in 2024 is $9,500. This fee covers all materials and expenses for LEADS Program sessions. It also covers the registration fees for the two ADFM Annual Conferences attended by LEADS Fellows. This does not include additional travel, lodging and some meal fees. 
Travel expenses and costs associated with AAMC Annual Meeting attendance are the responsibility of the fellow and/or their supporting department.
QUESTIONS CAN BE DIRECTED TO Sam Elwood (selwood@adfm.org).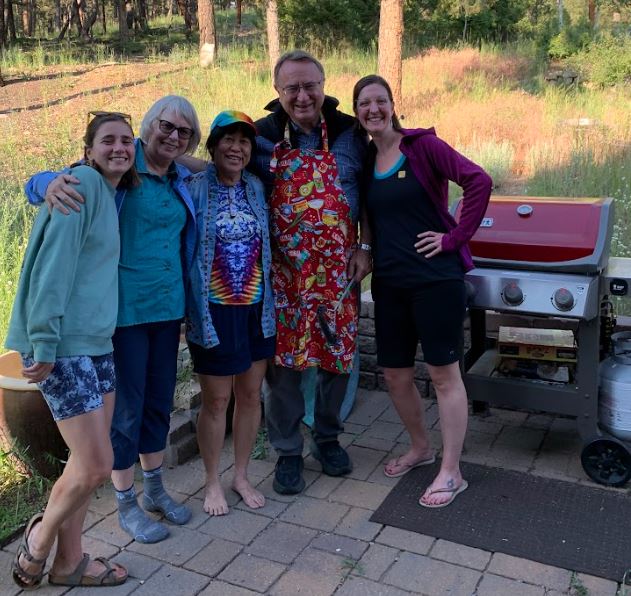 (above from left to right: Sam Elwood (ADFM staff), Val Gilchrist, MD (learning community faculty advisor), Myra Muramoto, MD (program director) Steve Zweig, MD ( Learning community faculty advisor), & Amanda Weidner (ADFM Executive Director)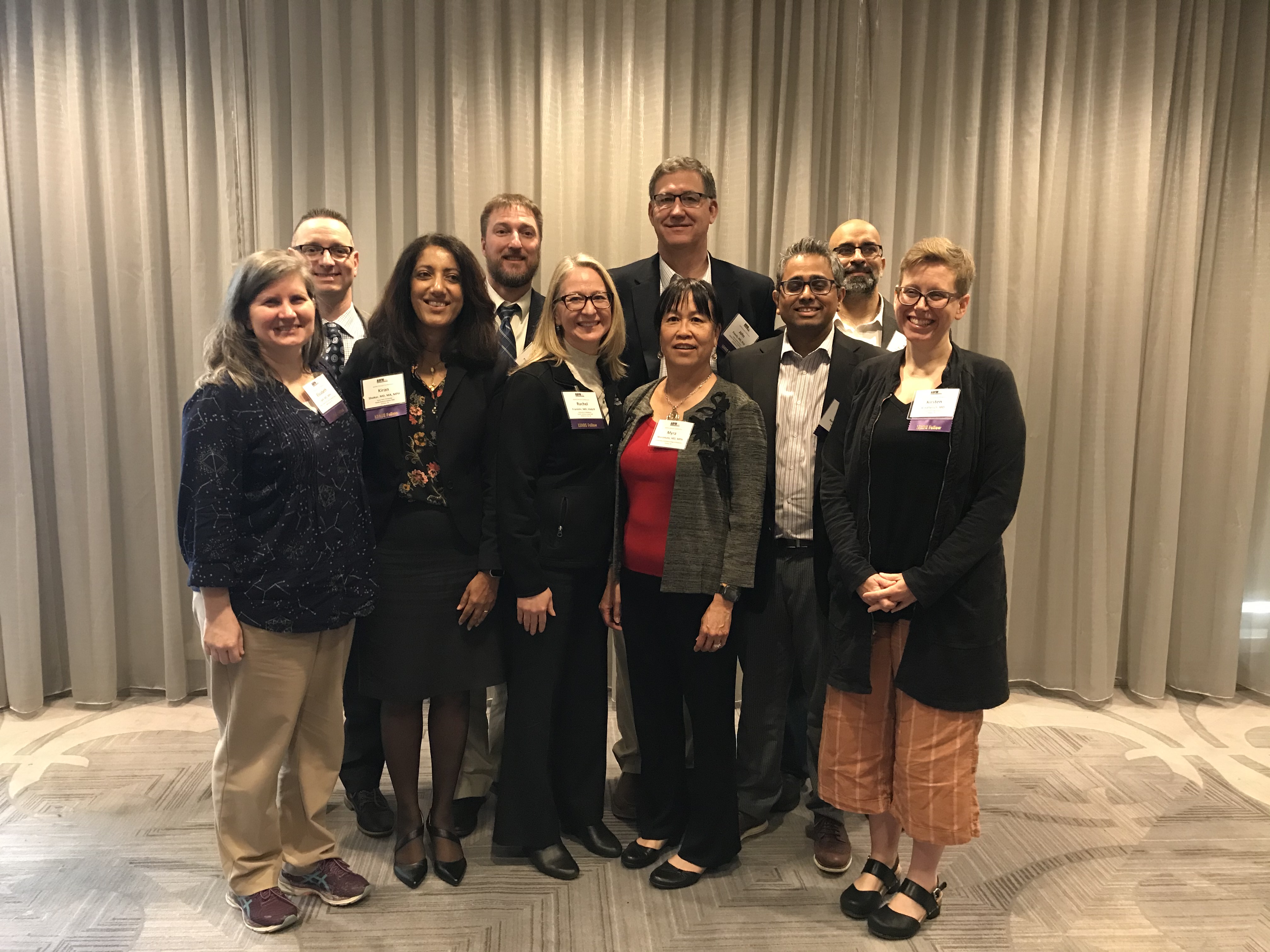 Since 2009, over 75 fellows have completed or are currently participating in the ADFM fellowship. Learn more about previous LEADS cohorts!